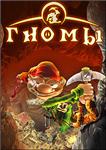 INFORMATION:

Released: 2002

Genre: RTS

Publication Type: Rip, full-version.

Language: Russian

Tablet: Not required

Game Version: v.1.0.979r build 59630


When buying you get a URL link to download the archive:

The archive images of the game: WIGGLES.mdf WIGGLES.mds

Graphic Patch: gnomy.rar


Installation is as follows:

1. Monitiruem image in DAEMON TOOLS, Alcohol

2. Install the game.

3. Copy the patch

4. Playing



"Dwarfs" - a joint publication of the company "1C" and the company's strategy from the company Snowball Innonics.


They can dig. But they can not dig ... They can drink ale and professionally at least professionally absorb the fly agaric. Who better than they can charge one great find and catch your pet wolf Fenrir? Return home animal, capable of destroying the world, but they can. They - the maestro of dungeons and caves magicians. They - the gnomes!


Kind and unselfish, ready to cut the throat of anyone who looks at them askance smooth, beardless face and dare to open mouth for the last barrel of precious laughing drink. But whether they can achieve the promised rewards Odin? After all, no good deed should go unpunished ... The answer is buried in the depths ... In the kingdom of the Dwarves.


- Unique alloy serious strategy and adventure mixed with the humor based on Norse mythology. Free development of the main plot, and over forty additional tasks and missions;


- Travel from the Stone Age to the era of high technology: five eras, each with its own scientific discoveries and buildings;


- Hurry, drummer, clever and The dead four Clan dwarves with completely different habits, skills and way of life;


- Free choice of strategy and tactics in your hands all the resources of the Earth's interior, ten and four types of weapons techniques of unarmed combat with the evil lurking in the caves.





System requirements:


Recommended

System: Windows 98 / ME / 2000 / XP;

Processor: Pentium III 866;

Memory: 256 Mb;

Video card: compatible with Direct3D;

3D-accelerator: required (32 Mb);

Sound card: compatible with DirectX;

CD-ROM: 12 speed;

Hard Drive: 900 Mb free space;

Drivers: DirectX 8.0.



If you liked our service - please leave a positive feedback after delivery. Thank you in advance!
No feedback yet